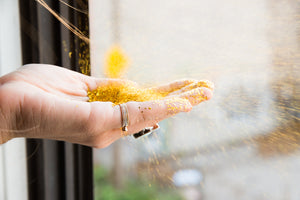 ways to wear your vibe
Whether it's for yourself or a gift to a loved one, whether you want to ward off negativity, channel positivity or bring harmony - Explore all the ways we can help you translate this vibe into a meaningful and unique piece of jewellery!
citrine
This joyful lemon-yellow stone is the ultimate pick-me-up! Citrine will recharge you with bright new optimism and a sunny attitude. Exude warmth and confidence to draw in new positive energy, abundance and happiness.
peridot
Peridot comes from lava. Its fiery origins make it the perfect stone for handling intensity with cool compassion. Peridot will open your heart, attract harmony in your relationships and can also provide good luck.
sunstone
Sunstone is perfect for when you need to channel your inner warrior or leader. This warmly coloured stone will boost your sense of self and give you a fearless outlook when taking on great new things.
turquoise
Turquoise is considered the Master Healer and will help protect you emotionally, physically and spiritually. Whatever ails you, this vibrant blue-green stone will shift the energy to bring you true health and happiness.
stamping & engraving
Add extra sentiment and communicate your intention clearly by stamping or engraving your piece. Almost any piece we make can be customized with a personal message!
find your vibe
What meaning, intention or overall vibe do your want your jewellery to convey? Take our quick quiz to check your vibe!