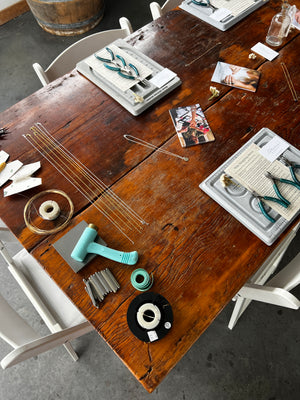 jewellery making workshops
let's make magic together
Our jewellery-making workshops allow you to create one-of-a-kind jewellery with us in our dreamy spaces with your favourite people. Whether it's for a bachelorette, birthday or just-because, our workshops are the perfect way to celebrate with your squad.
private workshops
Join us in either of our dreamy spaces full of gems and treasures to create your very own one-of-a-kind piece with your favourite people!
Our in-store workshops include a selection of joy-bringing beverages and refreshments (or bring your own if you prefer.)
These workshops are super special and memorable experiences that you will cherish for years to come. We can't wait to create with you!
1 person workshop:
$100 per person, plus materials*

2-3 person workshop:
$75 per person, plus materials*

4-6 person workshop:
$50 per person, plus materials*
7+ person workshop:
$60 per person, plus materials*
*(avg. $75 material cost)

choose from our workshop design packages
join us for a workshop!
Ossington
Self-booking available for 1-7 people

BOOK NOW
Prince Edward County
Self-booking available for 1-7 people
BOOK NOW
trail estate winery jewllery workshop
Book this one-of-a-kind private event today, perfect for bachelorettes, birthdays or just-because! Guests can celebrate, drink beautiful local wine and make a gorgeous piece of jewellery as a memento of a truly special experience.
You will first be treated to a tasting hosted by Trail Estate, followed by a glass of wine of your choice to enjoy during your jewellery session. You are welcome to purchase additional wine during your workshop if desired (non-alcoholic options are also always available!)

Anice will pick it up from there! We will have all materials and tools ready to go based on your pre-selected jewellery design (choose between a necklace, earrings, bracelet, or anklet) and can customize your metal preference, gemstones, and add a disc tag that we will hand-stamp with a meaningful word, date or character just for you, on-the-spot!

We provide thoughtful and thorough instruction from start to finish. Our workshops teach quick and simple techniques for all experience and mobility levels, and we can always help you finish your piece if you need it!
Available for groups of 2-15
$130 per person (materials included)
custom jewellery date
Share our custom-on-the-spot jewellery experience with your love, BFF, co-worker or family. This package is available for groups of two, or more!

An intimate custom jewellery session where you get to dream up your own pieces and have them made right before your eyes! Choose your materials, nail down your design and then RELAX, enjoy complimentary wine and spend quality time together while our jewel squad brings your creative visions to life. At the end, leave with lasting memories AND custom one-of-a-kind pieces made by us, designed by you. This is the perfect gift and experience to share with that special person (or people!) in your world.
$30 per person, plus materials (avg. $75 material cost)


team building workshops
The perfect option to add a little sparkle and fun to your corporate event! As a team you will learn a new skill and create a piece to commemorate your time together.
We love adding intention setting and hand stamping to these workshops, as well as gemstones with meanings that could celebrate something the team is going through in that moment.
There are so many amazing ways to customize this team building experience and tons of gender neutral designs to create. Get in touch to create your team's special time!


$120-$150 per person including the team building workshop session & design, with the finished piece of jewellery.

make lasting memories together
★★★★★

I loved the online workshop. Such a great idea an a fun experience, can't wait for the next one!

Sarah H.
★★★★★

What a beautiful place with an inspirational atmosphere! I had my bachelorette party here and we had a workshop :) A person who explained everything to us was so friendly and helpful! I highly recommend this place!

Yuliya G.