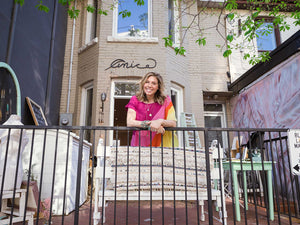 A one of a kind, elevated custom jewellery experience, encompassing the art of giving new love to old treasures, dedicated one on one client work, intentional retail and workshops. Anice Jewellery is rooted and inspired by love and is committed to you, our client and friend, by celebrating your unapologetic expression through jewellery.
Anice Jewellery is a life-size jewellery box boutique that was birthed over 10 years ago with the simple intention to connect and dream together to make your jewellery dreams come true.
Today we are located in two beautiful locations: Ossington Avenue in Toronto, and Wellington Main Street in Prince Edward County.
We offer a multi-faceted jewellery experience with a variety of different services, all including Old Treasures New Love, Custom on the Spot, Custom Fine Jewellery with Wedding and Engagement and Jewellery-Making Workshops.
Our services are offered by appointment only in our Ossington location and we are open for regular retail and appointments in Wellington. 
At the end of the day we're obsessed with jewellery, and we're obsessed with you!
It is an honour and gift to be trusted with your special pieces and occasions and we are so grateful you chose to include Anice in your love story. 
britt hopkins, owner & jeweller
I believe that everything done with heart is done well. For me, jewellery is more than just an accessory, it is a form of expression, an opportunity to shine, a boost of confidence, a way to connect and a symbol of love. It is my hope that you feel more than just satisfied with your Anice product, but inspired and lifted.

It is an honor to be trusted with your special projects and memories. I promise to never take that for granted and to celebrate this privilege through every piece we make.

xoxo,
Britt
As I sit down to create, I close my eyes and remember...
It's a Sunday afternoon and I am four years old. I jump out of the car and run towards the white gates of Grandma and Grandpa's backyard.

I leap into Grandpa's arms and he squeezes me tight, while I squeeze back as hard as my little muscles can. Then I look to Grandma, smiling in her lounge chair. Her magnificent, glittery earrings, matching her outfit to perfection, capture me instantly. Once again I am enthralled by the splendour of her accessories. I make my way over to play with her many rings and admire the fascinating objects that decorate her ears.

Grandma, one day can I wear pretty jewels like you?

Anice Kulak is my Grandmother. I attribute my obsession and dedication to designing jewellery to her. Anice is the inspiration to my creations.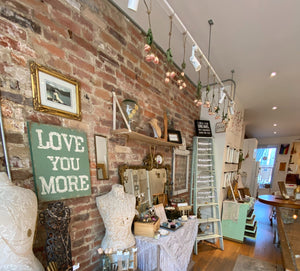 Anice Jewellery Ossington
By Appointment Only
102B Ossington Avenue
Toronto, ON, M6J 2Z4
Open
Tuesday - Saturday
11am - 6pm
Sunday
12pm - 5pm
Closed
Monday
(647) 351-5526
ossington@anicejewellery.com
BOOK WITH US
VISIT US
   Anice Jewellery PEC   
Retail & Appointments

310 Wellington Main Street
Wellington, ON K0K 3L0 Canada

Open
Monday - Thursday
10am - 5pm
Friday - Saturday
9am - 6pm
Sunday
9am - 5pm


(613) 799-5526
pec@anicejewellery.com
BOOK WITH US
VISIT US