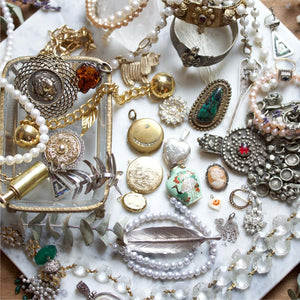 celebrate your treasures
Old Treasures New Love is the core of who we are! We love taking your vintage and pre-loved pieces and giving them a new life.
We are fully booked (and incredibly grateful!) for all Old Treasures New Love projects through the end of September.

For new projects, book now to secure your appointment for October.


You can book your initial appointment below, either virtual via Zoom, or in person at either our Ossington or Prince Edward County locations.
Book your initial *virtual* consultation!
Book your initial *in-person* consultation!
we specialize in reworking your vintage jewellery
Whether it's a string of your grandma's pearls, your dad's class ring, an earring you lost the match to, or a stone you found on an adventure, we love getting creative with you to turn your sentimental pieces into new jewellery you can wear for years to come. Learn more about our process here!
your keepsake deserves some new life
A little love here, a new chain there - inside of everyone's jewellery box is a vintage treasure waiting for new love.
let's talk treasures
Book a free consultation with our expert jewellery dreamers! We will work together to re-create your old treasure into a new masterpiece.