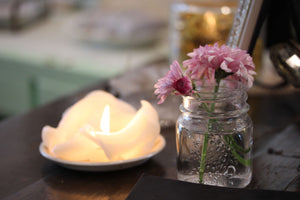 ways to wear your vibe
Whether it's for yourself or a gift to a loved one, whether you want to communicate tranquility, warmth or affection - Explore all the ways we can help you translate this vibe into a meaningful and unique piece of jewellery!
gemstones
Discover all the gorgeous gemstones related to peace, calm, and clarity!
amethyst
This notorious purple crystal is a meditative and calming stone. Amethyst is wonderful for relieving stress and bringing the body to rest. It will also strengthen your natural emotional instincts and sharpen your intuition when you need it most.
rose quartz
This is the ultimate love stone, not just for others, but for yourself. Self-love, romantic love, familial love, friendship love, all the love. This stone will remind you always that love conquers all.
pearl
Pearls symbolize wisdom acquired through experience. There is a reason why Mama loves her pearls! They are simply the most romantic natural wonders of the sea, all about feminine energy and growth, as nature and time allows.
larimar
Energies of the sea and sky, Larimar is only found in the Dominican Republic and echoes the colours of its Caribbean waters. Larimar encourages emotional honesty, a crystal of serenity and relaxation, cooling anger into patience and peace.
stamping & engraving
Add extra sentiment and communicate your intention clearly by stamping or engraving your piece. Almost any piece we make can be customized with a personal message!
find your vibe
What meaning, intention or overall vibe do your want your jewellery to convey? Take our quick quiz to check your vibe!