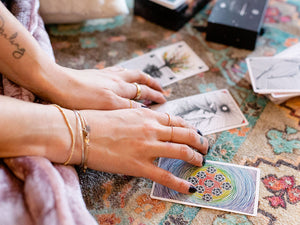 intuition, imagination, creativity
ways to wear your vibe
Whether it's for yourself or a gift to a loved one, whether you want to inspire expression, spark creativity or promote wisdom - Explore all the ways we can help you translate this vibe into a meaningful and unique piece of jewellery!
gemstones
Discover all the gorgeous gemstones related to intuition, imagination, and creativity!
moonstone
A stone of feminine energy that enhances sensitivity and intuition, this milky beauty is also incredibly soothing when you are emotional, anxious or stressed. It is also wonderful for fertility, both of body and creative mind.
labradorite
Labradorite is not what it first appears. On first look, a dark stone, but move it around and it flashes with magical glimmers of iridescent colour, encouraging you to look at life, and yourself, from all angles. This stone will stimulate your imagination and bring you new ideas.
pyrite
You may also know of it as "Fools Gold" but this powerful stone is anything but foolish!
Pyrite works as a unique protector, creating a defensive shield against negative energies. This stone will also benefit and bring good fortune to nearly every aspect of your life.
sapphire
The blue sapphire is often known as the wisdom stone. It promotes intelligence and the ability to make smart decisions. Sapphires also represent loyalty and devotion, which make them a beautiful expression of love.
stamping & engraving
Add extra sentiment and communicate your intention clearly by stamping or engraving your piece. Almost any piece we make can be customized with a personal message!
find your vibe
What meaning, intention or overall vibe do your want your jewellery to convey? Take our quick quiz to check your vibe!